The Passwordless Life
Welcome to PicKey's autofill feature. Using a unique 3D Master Key, PicKey offers passwordless login, akin to recalling a photo.
Once in, it manages and autofills passwords on both mobile and desktop, ensuring a seamless, password-free experience.
What is Autofill?
Autofill is a feature where PicKey automatically fills up your information for you as you browse through internet. This includes your passwords, addresses, phone numbers and credit cards.
Password autofill is PicKey.ai's main feature. After saving passwords in PicKey, they're autofilled wherever needed.
Enabling Autofill
PicKey offers various autofill options on your Desktop/Laptop via browser plugins for your favourite browsers :
Password autofill is automatically enabled in browser extensions from PicKey.ai after you login to your browser extension. You also have the option to enable or disable the following :
Address Autofill
Phone Autofill
Credit Card Autofill
Access these preferences on your browser by going to the Preferences section.
Using Autofill
When autofill is enabled, PicKey auto-fills your passwords. Ensure passwords are saved in PicKey first for this feature to work.
If you haven't saved or created any passwords in PicKey, then :
Either create and save new passwords
Create/Save new passwords by going to :
Home > Passwords > (+) icon
Or Import your passwords into PicKey
…from other password managers like
Google Chrome Password Manager
LastPass
1Password
Dashlane
Access the import menu via
Home > Settings > Advanced > Import/Export > Import
This feature is available in PicKey's mobile apps as well as the browser plugins. Just choose your previous Password Manager and upload the exported password file.
Using Autofill on your Browser
PicKey will automatically prompt you to autofill the password for a certain website, whenever you try to login to that website.

PicKey also prompts you to save a new password if it has not been saved before.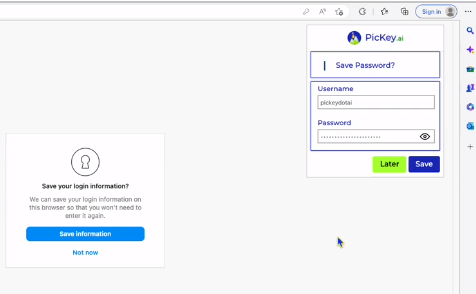 It also prompts you to save newly entered addresses, phone numbers and credit cards to manage and autofill them for you. PicKey can autofill and save your addresses, phone numbers and credit cards on your laptop and desktop with the browser plugins.
Safety First
All local storage is fully encrypted with Military Grade AES256 Cypher (CBC/GCM) and is entirely access locked.
All forms of communication are always end-to-end encrypted with at least 256 bit ECDSA or RSA keys.
This concludes this guide.
Related Blog Post : Enabling Autofill in PicKey - Desktop and Laptop